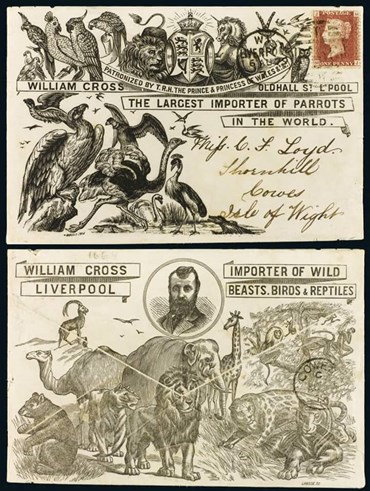 The dreadful story of the great fire in Liverpool town-centre that killed and maimed so many animals.
As the stories in this book are confirming, the people of Liverpool and Merseyside have always enjoyed thrilling and unusual entertainments, but they especially liked zoos. In Liverpool alone, between the early 1800s and the late 1930s, there were at least six of them! These all had to be supplied though, with a wide range of creatures that were exciting and novel enough to entertain and satisfy the demanding tastes of the paying public. Fortunately for the zoos and the people, in the whole field of animal trading few men were more significant and able than Liverpool-born William Cross (1840-1900).
Already a renowned animal importer, from around 1879 Cross established a new, major base of operations at 'Cross's Menagerie and Museum', in a large warehouse at the corner of Rigby and Earle Streets in Liverpool. This was near to St Paul's Square, which is now at the heart of the City's modern commercial district. Cross based his business here because it was close to the docks and to the ships that brought in, and exported again, his live wild animals, birds, and reptiles.
Cross was one of the most important and successful importers of animals, and he supplied these to zoological gardens and private collections all over Britain, Europe, and around the world. He employed his own hunters in the more far-flung countries so always ensured a ready supply of some of the most exotic creatures. He also advertised extensively and had agents operating all over the globe.
So successful was his business that Cross decided to open up his vast warehouse to the paying public, including its hundreds of cages and compounds, and he made a great deal of money as a result! This was because he was a showman at heart, who certainly knew how to appeal to the Scousers' passion for the thrilling, the bizarre, and the extraordinary.
He exhibited a wide range of creatures from his premises, such as Bison, Giraffes, and Rhinos, which most people marvelled at because they had only ever read about them, or seen them in pictures. But thousands of people were also drawn to his great menagerie to witness exhibitions of apparently fearless men wrestling with lions, and to learn how to ride Zebras. They could also gaze in wonder at that rarest of specimens, advertised as 'a white elephant from Siam'. Although, rumour had it that Cross simply painted an ordinary elephant with at least 50 coats of a mixture of whitewash and plaster of paris!
However, on 25th August 1898, there was a serious fire at Cross's Menagerie. Reporting this disaster a newspaper stated;
'The terrible-scene in the early hours of yesterday cannot be imagined, except by one who has seen a prairie fire or a jungle conflagration. The collection of animals at this place is one of the most remarkable in any civilized country, and it is constantly changing.... The caged beasts themselves gave the alarm, their keen smell detecting the fire at the first outbreak, and when the flames' took hold of the building their screams and roars of terror must have been appalling.
The poor brutes were mostly suffocated, for you cannot deal with lions and tigers as you would with horses, and open the doors and let them out. Either the cages must be moved bodily or the occupants abandoned, and the fire took such rapid hold that there was no time for heroic measures. The loss in lions, tigers, and leopards was considerable; all being burned to death; but a baby elephant, it is interesting to know, escaped unharmed.'
The great clouds of smoke were so blinding and suffocating that all attempts at rescue were beaten back. Among the creatures that either choked or burned to death were four lions, five leopards, a Bengal tiger, a jaguar, an adult puma, a black opossum, twenty-eight prairie marmots, and a crested eagle hawk. Also killed were a vulture, two hyenas, three cheetahs, a peccary, four rare foxes, two Virginian owls, two very rare Northern China owls, and two eagles.
During the inspection of the building, after the fire had finally been extinguished, the full tragedy began to be revealed. Most of the animals had been seared beyond recognition in the blaze, their limbs in many cases being burnt entirely away. It was also clear that one of the lions had made a frantic effort to escape before being overcome. The remains of its forepaws were found protruding through the bars of its cage, against which its head was pressed with obvious force and, as the newspaper described, 'showing the frantic strength which he must have used in his last mighty effort to escape the flames'.
However, some animals were found to be still alive; if barely. These included three hyenas, although each was severely burned about the head. One was so injured and in such agonised distress that it was decided to kill it. When the cage door was opened the demented creature began biting everyone and everything around it. The animal immediately bolted through the door, but one keeper managed to leap on it and pin it down by its hind legs. This enabled the speedy intervention of two other keepers, who quickly put a noose around its neck and throttled it; finally putting it out of its agonised misery. However, four cassowaries, a black bear, and a kangaroo were rescued, terrified and soaking wet from the fire-hoses, but otherwise completely unharmed.
Quite a number of animals had managed to escape the building during the fire, not just the baby elephant. These wreaked havoc in the surrounding streets before all being eventually recaptured; luckily, without injury to themselves or to members of the public. Just as fortunately the menagerie was fully insured and so was completely rebuilt and re-stocked. Within a year or so it was 'business as usual' and, in the 1902 edition of the 'Stranger in Liverpool', a popular and thoroughly detailed tourist guide to the City, a report stated,
'Cross's menagerie is situated at the corner of Rigby Street, off Old Hall Street (which is reached by crossing the Exchange Flags behind the Town Hall) and within a stone's throw of the Exchange Station, is this depot, undoubtedly one of the most complete trading menageries in the world ......
Beasts, birds, reptiles, and other representatives of the lower creation are dealt with, and so varied is the business that the proprietor boasts of his readiness to supply, on the shortest notice, anything with life in it from a humming bird to an elephant.
The menagerie is open to the public daily from 10.00am to 5.00pm, at a charge of 6d. per head, and, as many of the magnificent animals are constantly going through a course of training, a visit to the establish­ment will prove both interesting and instructive.'
After William Cross retired the business was then managed by his sons, William Simpson Cross (1873-1920) and James Conrad Cross (1879-1952). It is not clear when Cross's Menagerie closed, but it was certainly still operating in 1911. William Jnr. now had overall responsibility for the business and, during the 1900s, he expanded the family's interests, by renting the former mansion house and riverside estate of slave-trader and railway pioneer, John Moss (1782-1858), at Otterspool in south Liverpool.
Here, around 1914, he opened a new zoo. Amongst its attractions were a toothless, clawless, one-eyed lion, and an entirely bald-headed, bad-tempered badger. These animals, together with llamas, a buffalo, and many others from his collection, were allowed to wander freely around the grounds and amongst the paying public: There was no Health and Safety Executive in those days you see! This zoo closed in 1925, when Liverpool Corporation bought the Otterspool estate to convert it into the public parkland that is now known as 'Otterspool Park and Promenade'.
There are no longer any zoos or menageries in Liverpool, the nearest now being at Chester Zoo, and the triumphs and tragedies of William Cross and his sons are now only a memory. However, there is a thrilling Safari Park, on the estate of the 19th Earl of Derby, at Knowsley to the east of the City. So, there Merseysiders' continuing passion for exciting animals can still find satisfaction in the 21st Century.