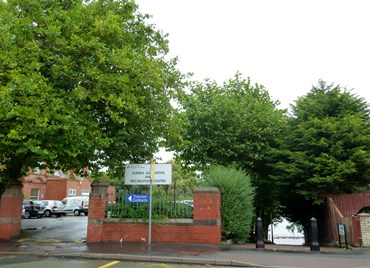 How did the Seacombe passageway, and the nearby Swimming Baths get their name?
Most people know of the public swimming baths on the Seacombe waterfront, named 'Guinea Gap Baths', but they might not know that this is the oldest public swimming pool on the Wirral. Costing £15,000 to build, it was opened on 7th April 1908, and, between that year and 1957, 205 world and national swimming records were set here.
Although it later had a very sophisticated filtration and heating system installed, originally the water was pumped into the pool directly from the Mersey. This meant that it was not only very cold but was a permanent murky-brown colour! But, why 'Guinea Gap'?
The name comes from a natural cleft, or gap, that had formed in the high embankment above the river, sometime in the early 18th century following a storm. The gap is still there but is now a paved pathway from the road down to the modern esplanade that runs along the Wallasey waterfront. However, when the gap first opened up it also created a large natural basin against the shore. This was big enough for a number of people to swim safely in at low tide. This proved to be very popular indeed, and local boys came here regularly to strip off and frolic about in the river waters.
But, around 1850, one of these youngsters felt something round and hard beneath his foot in the sand under the water. When he lifted up his leg to see what was caught between his toes, he, and his very excited friends, saw a golden guinea. This bore the head of King William III (1650-1702), so dated from the end of the 17th century.
The boys now scrabbled around in the sand, where they discovered around fifty of these valuable gold coins. As a result, the gap soon became known as 'The Guinea Gap', and the coins were believed to be some of the hoard of the local smuggler chieftainess, Mother Redcap. Her isolated tavern had stood for very many years, further along the coast at Egremont, where a large treasure had always been believed to have lain undiscovered.
What happened to the gold coins is not known; there are no records stating into whose pocket or bank account they eventually found their way. It is almost certain that the boys who found them never got to keep them, so all that remains of this curious incident today, is the Guinea Gap itself.