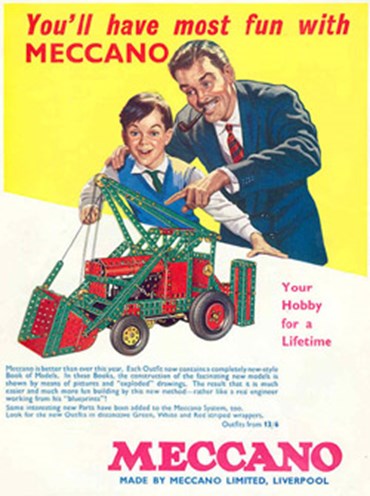 The story of the Liverpool inventor who created some of the world's most popular toys.
Three of the most popular toys of the 20th century, in Britain particularly but then also around the world, were 'Meccano' construction sets, 'Hornby-Dublo' (Double 'O') model railways, and 'Dinky Toy' model cars and vehicles. These were all created by Liverpool-born Frank Hornby (1863-1936).
Frank Hornby's father was a wholesale grocer's merchant in Liverpool, and the entire family were proud of their heritage; indeed, Frank spoke with a strong Scouse accent all his life. However, Frank hated school, despite the determination of his parents to make sure he 'got a good education'. But the boy played truant so much that, by the time he left school at the age of sixteen, he found himself working in a series of poorly-paid clerking jobs.
Eventually though, he became a book-keeper for a man named David Elliot, who owned a meat-importing company. Frank was happier here, and got on well with his employer. However, he was unfulfilled, and could not seem to settle. Nevertheless, the rest of his life was good and, by the late 1890s, Frank married and went on to have two sons.
He began to make toys for his young boys, in 1898, in his garden shed, and built them metal models of lorries, bridges, and cranes. He also created a working model of a submarine but, whilst the craft dived perfectly, it failed to surface again. He was equally unsuccessful when he attempted to develop a perpetual motion machine!
However, never one to be daunted by such setbacks, and now discovering his real passion, Frank Hornby had a brainwave idea. This was to make his models out of miniature metal parts that could be fastened together with equally miniature screws and bolts. He also designed small spanners and screwdrivers to use on these components, so that he could build whatever kind of model he wanted. His first design was a crane hoist, originally using copper parts but, because this metal was too soft he later changed to mild steel.
Early in 1901, Frank realised just how marketable this idea was, and his plan for 'Mechanics Made Easy' construction kits was born. For these he designed strips of metal, rounded at the ends for safety, half an inch wide, and in three, standard lengths. Each strip had holes drilled in it at regular distances, so that they could be fastened together in a variety of ways, using his tools, nuts, and bolts.
Borrowing £5 from his employer, David Elliot, Frank took out a patent and, in 1902, his first kits went on sale. These were produced in his Duke Street factory, which was actually only a small workshop above a shop. His manufacturing equipment consisted only of a single lathe, driven by a gas engine that sometimes worked and sometimes did not, and a couple of hand presses for stamping out the parts. Nevertheless, Frank manufactured a quality product, and each set came with enough parts to enable young people to create almost any toy they could imagine: Although, to inspire and guide them, an instruction booklet was included with plans for twelve models.
A man of the times, Frank Hornby had never imagined for a moment that girls would be interested in his miniature engineering kits, so he aimed all of his products at boys. Sets first sold at 7s 6d (£30 at today's prices) so these were expensive toys only for serious young model-makers (with generous parents!). Even so, they proved very popular, and with the later addition of wheels, pulleys, axles, gears, bearings, brackets, and face-plates, the range of creative possibilities proved almost endless.
By 1906, the new business was making a profit, and the 'Meccano' trademark was registered in 1907. The name is said to have been derived by Frank, from the phrase 'make and know'. Then, in 1908, the new 'Meccano Ltd' company was also registered. It was at this point that Frank bought five acres of land at Old Swan and built his Binns Road factory.
Whilst Frank managed their company, David Elliot remained a silent business associate, and sales spread rapidly around the world. Soon, they had branch offices and distribution centres in Barcelona, Berlin, and Paris, as well as in America, and Meccano instruction booklets were being printed in fourteen languages!
After the end of the First World War the British Board of Trade suggested that Frank should consider making model trains and railways. He did so, and the first Hornby Clockwork Trains appeared in 1920, eventually, in 1925, developing into model locomotives driven by electricity. These were the first Hornby Dublo train sets, so called because they were '00' scale models, all beautifully designed and detailed, die-cast, and manufactured in high-quality tin-plate. As with his Meccano sets, the train sets became popular around the world. In fact, by 1930, they were even outselling Meccano!
From 1916, the company had been publishing, also worldwide, the monthly Meccano Magazine. This continued until 1981, and copies of this are now collectors' items in their own right. By 1933, Frank Hornby was now selling his vast range of Dinky Toys. These detailed models, also die-cast but in zinc alloy, were not just of cars and road vehicles, but also of farm vehicles, tanks and other military vehicles, boats, and planes.
This new part of Frank's business became just as successful, because these models also became very popular collectors' items: They still are, and command very high prices amongst expert collectors and enthusiasts alike.
Frank Hornby was a great believer in product diversity, so he also went on to design and produce model village landscapes, buildings, tunnels, and bridges for his train sets. He also created an extensive range of miniature furniture for dolls houses, so now he had something to offer to girls as well.
All of this international success made Frank Hornby an exceptionally wealthy man, but he wanted to make a wider contribution to society, so he served as MP for Everton from 1931 to 1935. When he died, in 1936, at the age of 73, it was at the grand mansion that he had built for himself at Maghull, just north of Liverpool.
In 1979, the Binns Road factory closed and was soon demolished. A cinema and a sports and leisure centre now stand on the site. However, Meccano construction kits continue to be manufactured and sold around the world. Hornby Trains, after 1964, passed through different owners, but continue to survive as the separate 'Hornby' company.
Long after the death of Frank Hornby, because both famous names are maintained, his legacy of imaginative and creative fun not only survives but is destined to continue for many generations to come.