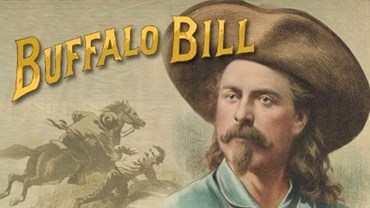 The story of the two visits that the great Wild West hero, Buffalo Bill Cody, made to Liverpool at the turn of the 20th century, and of the impact he had on local people.
In 1847, the great, American, Wild West legend, Buffalo Bill, was born in Iowa, USA. His real name was William Frederick Cody and, when little more than a boy, he became a rider for the pioneer mail delivery service the Pony Express. In 1861, he began working for the US Army as an Indian scout and he fought in the American Civil War, from 1861 to 1865.
Cody earned his more familiar nickname when he became a hunter for the Kansas Pacific Railway, in 1876; tracking, shooting, and killing North American Bison, more commonly known as Buffalo. This was to supply fresh meat for the workers building the great railway that was connecting the east and west coasts of the fledgling country. Bill was an expert shot with a rifle and very skilled at his trade. So much so that he was said to have killed 4,280 buffalo in eighteen months, and his record was 48 of the great animals killed in just 50 minutes.
The problem was that he, and the riflemen he had working for him, almost completely wiped out the species, and drove the Plains Indians into starvation as a result. This was one of the causes of the Indian Wars in which Cody fought, gaining popular fame as a 'Wild West Hero' for single-handedly killing Yellowhand, the Cheyenne chief.
Cody became renowned across America and then around the world as the great 'Buffalo Bill' and, in 1884, he began to capitalise on his fame by creating a travelling Wild West Show. He toured the world with this spectacular entertainment, taking it to the greatest cities of the world and, of course, one of the greatest at the end of the 19th century was Liverpool. He first brought his show to the 'crossroads of the British Empire' from the 6th to the 18th July 1891, where it was performed twice daily in Newsham Park: and what a show it was!
The men and women of this great extravaganza, with their animals and equipment, arrived at Knotty Ash station on Sunday 5th aboard a single train of 72 carriages. These were carrying 200 performers, including cowboys, rough-riders, and Native American Indians. There were also 200 Horses, dozens of covered pioneer wagons, and a herd of buffalo! They made their way through the suburbs of Liverpool to the Park, attracting vast crowds of astonished onlookers en route.
Thousands of people came from across Merseyside every day; paying a shilling a time to see the show. In the huge outdoor arena they witnessed the roping and branding of cattle; the horsemanship skills of the rough-riders; and the recreation of a Sioux Indian attack on a wagon train. This featured the real-life Native American Indian Chiefs, Short Bull, Kicking Bear, and Long Wolf.
Scousers had never seen anything like this before, and gasped in awe at the authentic sights, sounds, and smells of the men and animals; of the gunshots; and of the flames and smoke. They cheered in exhilaration at the nick-of-time rescue of the Pioneers by the American Cavalry in all their uniformed glory. Extra ferries had been laid on to carry spectators across the river, and extra trams and omnibuses brought people from across the City, and beyond, to shout in thrilled excitement, as the one-and-only, authentic, actual Deadwood Stage Coach was attacked by bandits.
Adults and children alike were amazed to see the world-famous sharpshooter, Annie Oakley (known as Little Sure Shot), shoot the pip out of an Ace of Spades at 100 yards distance! But, to see the great man himself, Buffalo Bill, ride into the arena, leap down from his horse, and sweep off his hat in a spectacular bow, really brought the crowds to their feet.
Here he was in person, just as they had seen him in photographs in the newspapers, and in sketches in the 'penny-dreadful' comics they had all been reading. With his long, flowing, white hair; curling moustache, and neatly-trimmed goatee beard; and in his white buckskins; fabulous boots with their engraved buffalo figures; and wearing his silver six-guns with their pearl handles, Buffalo Bill brought the Wild West to life in Liverpool.
At the end of the two week run ¼ million people had seen the show and £20,000 had been taken in ticket sales; worth £2Million in today's money. Bill was so happy with his profits that, in May 1903, he came back to visit us again. This time however, he stayed for 3 weeks after arriving in 3 trains of carriages. He brought with him over 500 horses, but there was no Annie Oakley. Even so, there were now even more Indians, from the Sioux and Cheyenne nations. There were also over 100 Rough Riders and, as well a contingent of US Artillery and Cavalry, there was also a detachment of English Cavalry 'flew the flag' for the British Empire, in a show of militaristic alliance with our ex-colonial cousins from across the Atlantic Ocean.
This time the Wild West Show took place in a massive, purpose-built Exhibition Arena on Edge Lane Drive. This stood where the Corporation Bus Sheds were later built, and where the extension to the Technology Park now stands. It was 185 feet wide by 440 feet long and had tiers of seats on three sides. Outside, and covering an additional ten acres, was an accompanying exhibition of displays and attractions, including a recreated Indian Village. The most popular character in the show this time round though, apart from Buffalo Bill himself, was the Lakota Sioux Indian Chief, from the Black Hills of South Dakota, Charging Thunder.
My Nan saw the show this time round and she told me how, as a young girl, she was on Wavertree Road when Buffalo Bill, in his Buckskins, boots, and gunbelt, went shopping, accompanied by Charging Thunder. The tall, somber Indian Chief, was dressed in a plain, grey smock and leggings, with equally plain moccasins, and was wearing two feathers in the back of his hair. He seemed to be absolutely delighted with the shopping bags he was carrying, one in each hand, but which were both completely filled with nothing but cabbages. He was proudly showing these to the fascinated crowds lining the pavement, declaring to them as he did so, "Cabbages, Cabbages!" Meanwhile, Bill was bidding the gawping shoppers a, "Howdy Pardners!" and a, "Glad, ta see ya'll!", as locals no doubt responded with such comments as, "Orlright der Bill la!" and, "Giz a go ovya guns Billy mate!"
Chief Charging Thunder's life, however, was to change forever when the Wild West Show left Liverpool and moved on to Salford. Here, the 26-year-old Native American Indian Chief decided to leave the show with one of Buffalo Bill's horse handlers, a girl named Josephine. They married, moved first to Darwen, but finally settled in Gorton in Manchester, where they set up home and raised a family.
Changing his name to George Edward Williams, he worked for many years at Belle Vue Circus where he looked after the elephants; his favourite of these was named 'Nelly'! George and Josephine lived a happy married life until he caught pneumonia and, on the 28th July 1929, the former Lakota Sioux Chief sadly died, at the age of only 52. He lies buried, as George Williams, with Josephine who died in 1943, in Gorton cemetery, but their descendants still live in and around Manchester.
Buffalo Bill Cody himself, despite his worldwide fame and all the money he made, became bankrupt in 1915. He died in poverty, in 1917, at the age of 70. His body lay in state in Denver, Colorado, for just a day, but 25,000 people filed past his coffin 'to pay silent tribute to the great Indian scout and showman'.
The memory of his two visits to Liverpool, with his amazing and spectacular Wild West Show, lived long in the hearts and minds of Liverpool people, and we shall certainly never see the like of Buffalo Bill again!