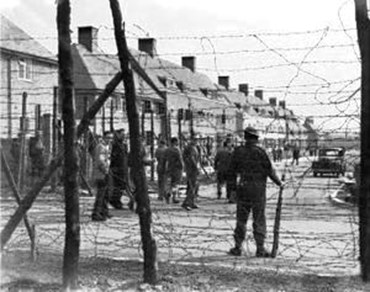 This is a story of how the people of Huyton helped to improve the lives and fortunes of some World War Two prisoners in their own community ...
During the Second World War, in May 1940, the British Home Secretary ordered that all Germans and Austrians between the ages of sixteen and sixty, then resident in Britain, should be interned in special camps as 'enemy aliens'. This was because of the fear of spying or sabotage being carried out in Britain by foreign enemy nationals and Nazi sympathisers. This policy involved the immediate imprisonment of around 27,000 people; mainly men and boys, but also a significant number of women and girls. Males and females were housed in separate camps, often in different parts of the Country, so many families were split apart by this system.
Just to the east of Liverpool is the small town of Huyton, then part of the Borough of Liverpool, and this district was selected as the location for one of these 'internment camps'. The Huyton Camp did not involve the building of any special structures, it simply consisted of a number of streets of newly-built but otherwise empty council-houses being commandeered by the War Office. These were then enclosed by an 8 feet high, barbed-wire fence.
The new houses had been built by Liverpool Corporation as an overspill housing estate, but now sentries with guard dogs patrolled its perimeter, which was punctuated by high watch towers placed at strategic points. These were manned by guards armed with machine guns who, at night, swept the Camp with searchlights mounted on platforms. This large compound was, in fact, a fortified prisoner-of-war camp in all but name.
Originally intended to simply be a transit camp, it actually remained in place from May 1940 to October 1941. Here, up to 5,000 enemy alien detainees were held, awaiting transfer to Australia, New Zealand, or Canada, or to the more permanent internment camps that had been set up on the Isle of Man. However, on 2nd July 1940, the Cammell Laird-built Blue Star liner 'Arandora Star', carrying mostly German and Italian detainees from Liverpool to Canada, was torpedoed and sunk off the coast of Ireland with the loss of over 800 lives. As a result of this tragedy overseas deportations were brought to an end.
There were two camps at Huyton; Camp One, comprising the initial housing estate, with at least twelve people billeted to each house; and Camp Two, which consisted of tents, pitched on adjacent wasteland. There were four people to each tent and when it rained the ground became flooded and mud-washed. Conditions quickly became extremely uncomfortable and unhygienic.
In fact, from the time that it opened conditions at the Huyton Camp had been extremely poor. One of its biggest problems was that it was seriously overcrowded. This was because so many people were being confined in the houses but only 140 beds were available to them. In fact, many of the houses had only been partly-built, and were without windows or completed rooves or walls. Most people had to sleep on the floors and tables, or on whatever other suitable furniture there was. Many were sick and incapacitated and had to be left on bedding or spare mattresses in overfull rooms.
Many internees were mentally ill or physically handicapped and needed constant care and support. This they only received from their fellow inmates because, at first, there was only one Medical Officer for the entire Camp. Later, a number of internees with medical degrees worked with this dedicated and tireless British soldier, to alleviate the suffering of their fellow prisoners. Diaries, secretly kept by some of the inmates, showed that some of the conditions gradually improved, but not all.
Undoubtedly, some internees were indeed Nazi supporters but, sadly, most of the men and boys here were actually refugees from Hitler. Many had already been subjected to brutal persecution on racial or political grounds, and a significant number were Jews who had come to Britain to seek safety and asylum in a free country. The irony and anguish therefore, of finding themselves in what amounted to a concentration camp, must have been appalling. Now they found themselves in humiliating and unpleasant circumstances and separated from their loved ones. This all made their incarceration much more stressful and hard to bear but, at least, they had escaped the brutality, the torture, and the gas chambers.
Amongst a number of prominent internees was the Austrian composer Hans Gal (1890-1987), who wrote his 'Huyton Suite' whilst a prisoner in the Camp. He composed this for a flute and two violins, which were the only instruments then available to him. There were also two young artists, Walter Nessler (1912-2001) and Hugo Dachinger (1908-1995), who painted scenes of camp life on old newspapers and wallpaper. Examples of the work of both artists are in the collection of the Walker Art Gallery, in Liverpool city-centre.
People from all over Britain were shipped to Huyton, to be imprisoned in what was one of the largest such camps in the country, until they could be proved to be no threat to the War effort. However, it could take months or, in some cases, even years to confirm the innocence of many of these internees so that they could be released. Most people in Britain's internment camps had been released by the end of 1942, but the last people were not freed until the end of 1945, well after the War had ended.
The people of Huyton were angered and ashamed by what was taking place in their community, and they smuggled food, clothes, shoes, and blankets into the prisoners who were, in effect, their neighbours. They also complained bitterly to the Government about the way these people were being treated and, in August 1940, the Prime Minister, Winston Churchill (1874-1965), ordered a thorough investigation of the Camp and its management. He was appalled when he was presented with the report and ordered a wholesale improvement of the internees' conditions. His instructions were immediately carried out.
In fact, by early 1941, most internees at Huyton had been freed and, by October of that year, the Camp had released all of its inmates. The site was then used as a military facility until the end of the War, when building work on the houses was finally completed and it became the housing estate that is now known as Woolfall Heath.
The story of the Second World War internment camp at Huyton is one that shows the Wartime Government of Britain in a very bad light, but which reflects very well on the people of Huyton ~ true Scousers who understand and object to injustice and who will always fight it.